Slide
HALAL FOOD BANK
MELBOURNE INC.
Manifesting traditional Islamic knowledge and spirituality to benefit the community through service.
In 2011, Halal Food Bank began as a humble community initiative with a small group of volunteers who would collect, sort, pack and distribute food donations to partner organisations to provide to their clientele. Our Food Bank focuses on Halal food, however anyone in need is welcome to receive support. In 2022, with increased community support and our first Government grant, we have secured a 10-year lease of our new warehouse in Campbellfield. From a small project in a team member's garage to donated spaces in Dandenong (for a year) and then another in Watsonia (for eight years) by a valued community members, we now have a long-term home.
Special State Government Funded Campaign
Multicultural Covid Taskforce grant from Department of Families, Fairness & Housing
Islamic Council of Victoria
Muslim Aid Australia
Community Care Network
United Muslim Migrant Association
Pillars of Guidance Community Centre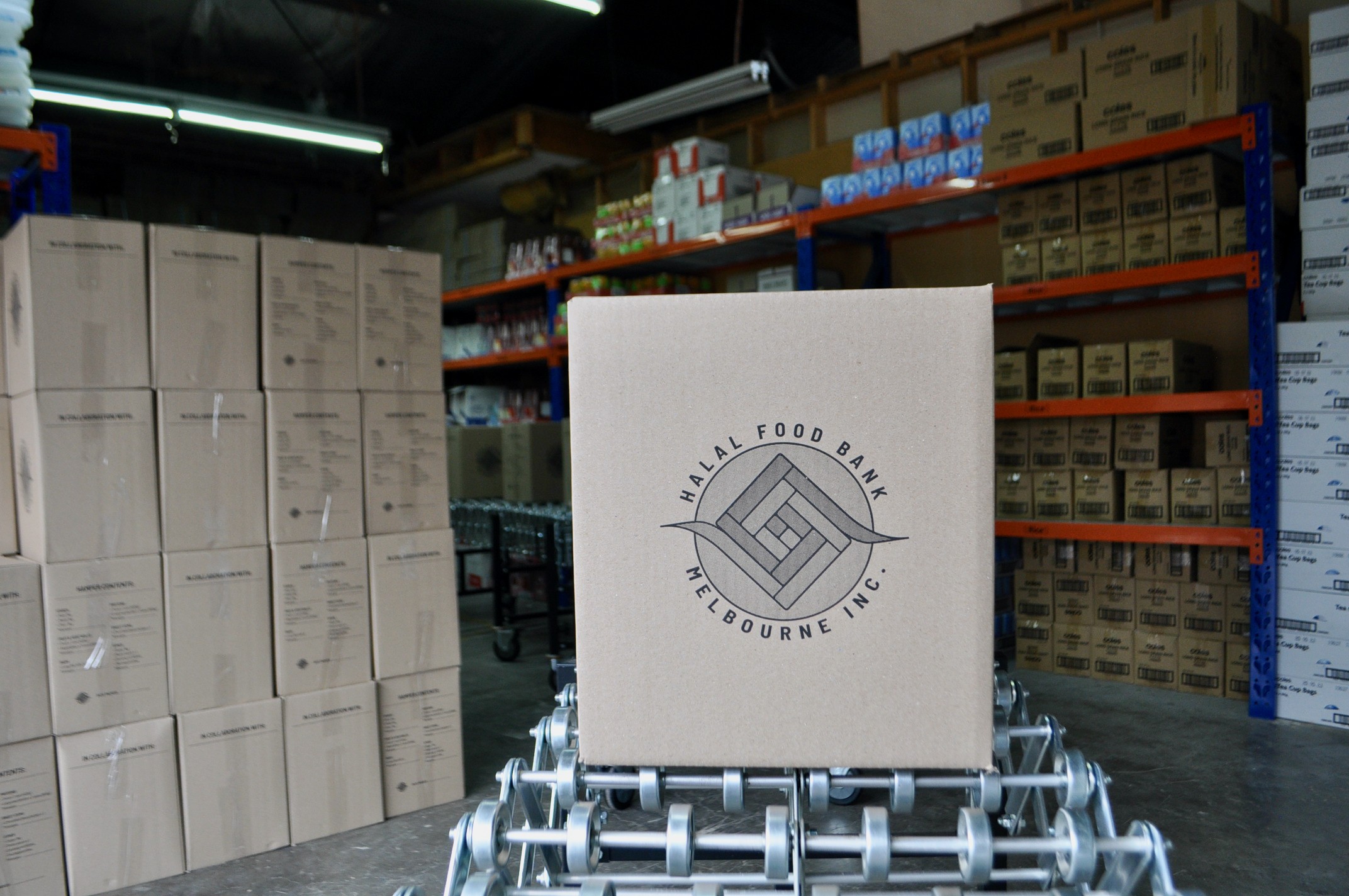 MANIFESTING TRADITIONAL ISLAMIC KNOWLEDGE AND SPIRITUALITY TO BENEFIT THE COMMUNITY THROUGH SERVICE
The Halal Food Bank in Melbourne is run entirely by volunteers and purely with donations, and aims to provide halal, nutritionally sound food to needy families, those who require crisis support, and asylum seekers on a monthly basis.
Rice 2kg
Flour 1kg
Pasta 1kg
Canned fruit 800g
Canned vegetables 800g
Canned Tuna 400g
Canned Legumes 800g
Cooking oil 750m
Sugar 1kg
Pasta sauce 600g
Tea
COVID-19
- 'WE ARE HERE' CAMPAIGN
MID 2020
- MELBOURNE, AUSTRALIA
In response to Covid-19, Halal Food Bank, alongside our field partners established the 'We Are Here' campaign. During the strict Covid-19 lockdown in mid 2020, with increasing job losses and Melbourneans struggling financially, the demand for our food hampers increased substantially.
The 'We Are Here' campaign aims to provide food+hygiene hampers directly to those affected by Covid-19 related unemployment/restrictions. These hampers also consisted of face masks and hand sanitisers.
Parallel to this campaign, Islamic Council of Victoria requested hampers for their own distribution to those in need. Funded by the State Government of Victoria, we have supplied upto 1750 hampers in a 12 month period.
We are thankful for the continued support of donors, our field partners and volunteers during these uncertain times.
Sharfi Ruknudeen
Chairperson
Ahanee Rind
Vice Chairperson
Zohal Yaqubi
Board Member
Mostafa Haroun
Board Member
Rasad Merchant
Board Member
OUR RECIPIENTS & FIELD PARTNERS
Halal Food Bank is partnered with other aid organisations. We supply the food parcels to these organisations, who distribute them to their clientele. We are also able to refer people directly to our partner organisations to get access to HFB boxes and any other assistance they may require